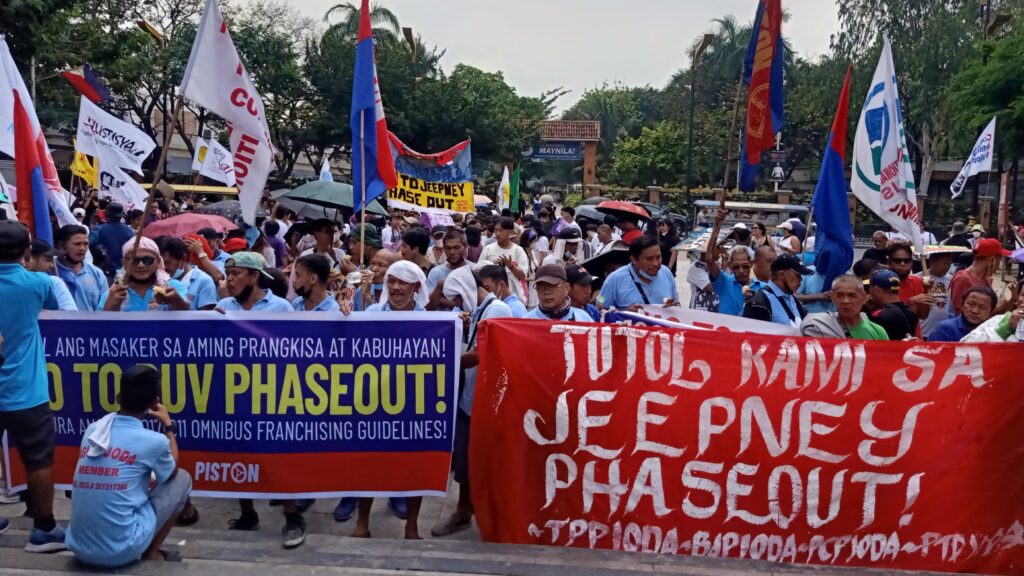 Transport group PISTON strongly condemns the Sonshine Media Network International (SMNI) which recently went on a red-tagging spree against the transport groups who held a successful two-day strike that compelled the Marcos Jr administration to review the PUV Modernization Program (PUVMP).
SMNI is owned by Apollo Quiboloy, a devoted Duterte supporter, delusional cult pastor of the Davao-based Kingdom of Jesus Christ church, and convicted sex trafficker and money launderer. Quiboloy is currently wanted by the US Federal Bureau of Investigation (FBI) for "Conspiracy to Engage in Sex Trafficking by Force, Fraud and Coercion, and Sex Trafficking of Children; Sex Trafficking by Force, Fraud, and Coercion; Conspiracy; Bulk Cash Smuggling."
"Before Jeffrey Celiz and Lorraine Badoy spew their lies, they might have forgotten that they are being fed and paid by a criminal. And they might have also forgotten that they themselves are facing criminal charges," said Mody Floranda, PISTON national president. "They should just focus on facing those charges instead of smearing the reputation of the drivers and operators who are only trying to defend their livelihood."
The group said Badoy and Celiz have no moral authority to spew outrageous allegations against ordinary transport workers and hide behind the used-up tactic of red-tagging when they have been already exposed as liars themselves.
It can be recalled that Celiz falsely testified in a Senate hearing on red-tagging in 2020 while Badoy is currently facing a contempt order by the Supreme Court for her outrageous statements and death threats toward Manila Regional Court Judge Malagar, who ruled that the CPP-NPA could not be proscribed as terrorist organizations.
The fact that the two-day transport strike garnered outpouring public support and that Malacañang was compelled to talk to PISTON and Manibela proves that the strike and its demands are legitimate, said PISTON.
"The drivers and operators joined the transport strike because they are being pushed by the government's anti-poor policies and they need to defend their livelihoods that are being threatened by the government's massacre," added Floranda. "SMNI and red-tagging should be phased out, not jeepneys."