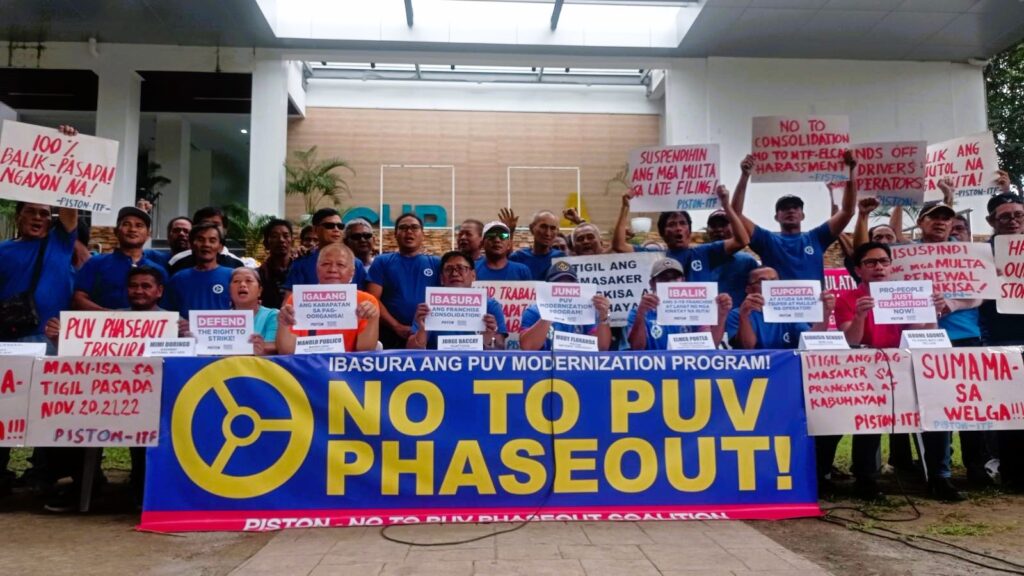 Transport group PISTON has called for a three-day nationwide transport strike starting Monday, November 20, to protest the government's insistence on the December 31 deadline for the application for franchise consolidation under the Public Utility Vehicle Modernization Program (PUVMP).
PISTON National President Mody Floranda said the group is dissatisfied with the recent proposed amendments to the Omnibus Franchising Guidelines (OFG), saying their main concerns regarding the implementation of the PUVMP have not been met, particularly the demand to repeal the franchise consolidation component of the program and suspend the entire PUVMP.
The group says that the franchise consolidation scheme may result in the monopoly of a few big fleet managers or corporations who have the necessary capitalization to control PUV routes, thus concentrating market control in the hands of a few corporate entities and effectively stripping small-time operators of their democratic control over their vehicles and livelihoods. As around 80 percent of all jeepney operators in the country only own one jeepney, the majority of jeepney operators are at risk of being displaced.
"The franchise consolidation is the first step in the corporate-capture of the livelihoods of drivers and operators," Floranda said. "This is not really to fix public transport, but to make it easier for big businesses and corporations to take over the routes and livelihoods of small operators."
PISTON demands the immediate repeal of the current PUV Modernization Program together with the following five demands:
Scrap the franchise consolidation requirement and allow those who previously complied to withdraw their individual franchises.
Restore the five-year franchises for all PUVs and all modified PUV routes.
Provide immediate cash aid and reasonable financial support for all affected PUV drivers and small operators.
Uphold the right to freedom of association and respect the right to strike.
"We urge all drivers and operators throughout the country to participate in our strike to fight for our livelihoods and rights. Enough is enough! We strike now!" Floranda said.