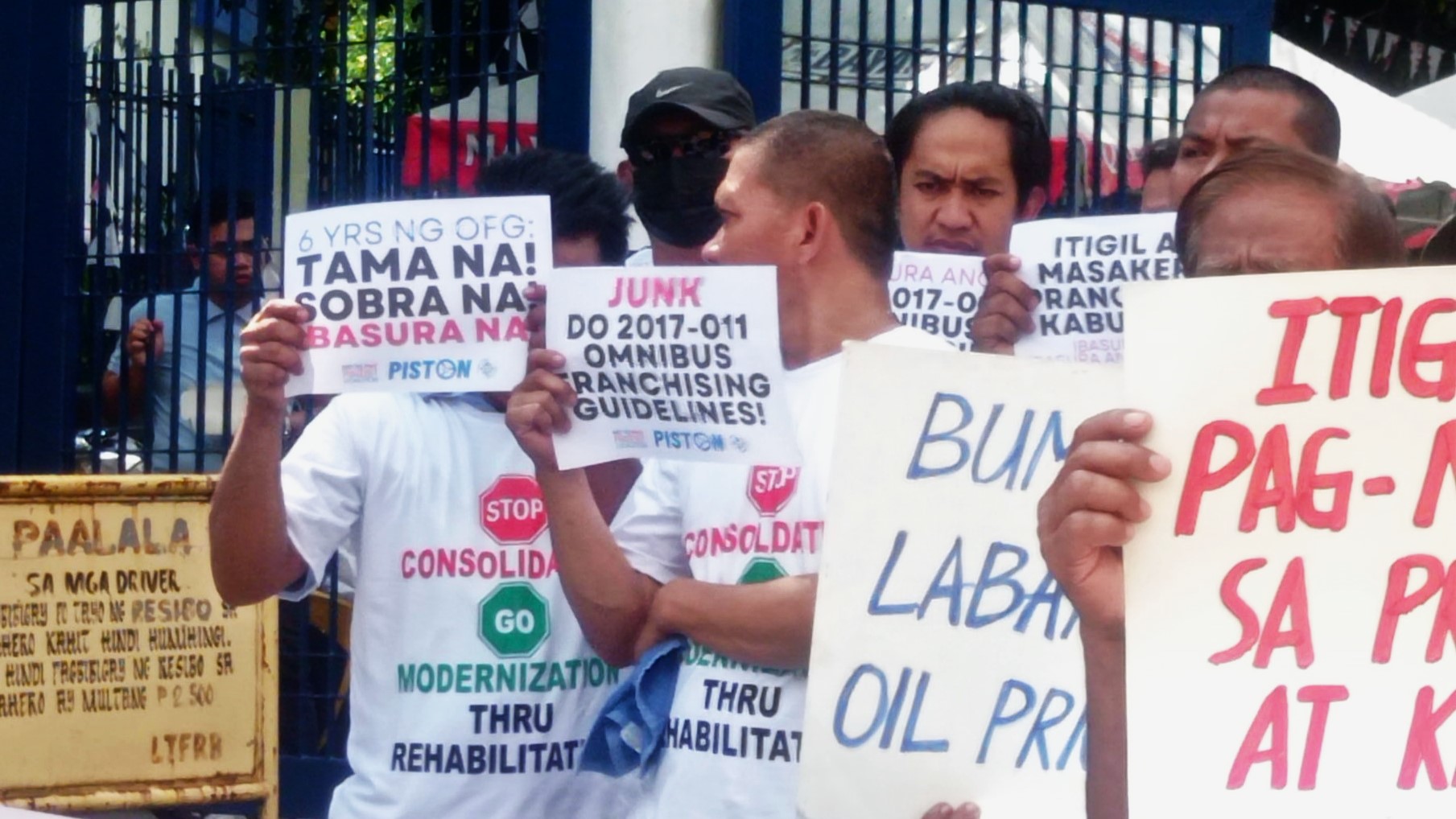 Transport group PISTON picketed in front of the Land Transportation Franchising and Regulatory Board (LTFRB) Central Office on Monday, June 19, to mark the 6th anniversary of the signing of the Omnibus Franchising Guidelines (OFG) and press the Marcos Jr government to repeal the policy.
The OFG, signed by then-transport secretary Arthur Tugade on June 19, 2017 in Camp Aguinaldo, paved the way for the implementation of the PUV Modernization Program (PUVMP). PISTON has since criticized the PUVMP and launched several protests and strikes against it, saying that the program is the corporatization and monopolization of the small-capacity public transport, which kills the livelihood of thousands of small PUV operators and drivers for the benefit of a few large local corporations and foreign transnational vehicle suppliers and energy companies.
The group also submitted a copy of their 7-point demands to the Marcos Jr administration, which they hope will be considered in the ongoing review of the OFG.
"Six years have passed since the OFG was signed, but what have we gained? Only hardship! The crux of our demands to the government in their so-called review of the OFG is to directly scrap it, especially the oppressive provision of Franchise Consolidation, which forcibly takes away the individual franchises of small operators to be passed on and profited from by large companies," said PISTON National President Mody Floranda.
PISTON also calls on the Marcos Jr government to implement a genuine and sustainable public mass transport system that is anchored on fair and just transition, and not solely reliant on importation camouflaged as "modernization."
"No country in the world has successfully modernized by relying solely on importation. So if Marcos Jr wants to promote the use of electric vehicles, the benefits of these to the environment will be meaningless if the millions of Filipino workers who are losing their jobs will not benefit from it, if we will just become a dumping ground for products from the US and other vehicle-supplying countries, if the livelihoods of the poor drivers and small operators will be taken away, and if our own industry will be undermined," added Floranda.
For his upcoming SONA in July, Marcos Jr should provide specific and actionable plans for the transport sector, particularly for the thousands of transport workers affected by the PUVMP, according to the group.
"Marcos Jr will be one year in office on June 30 and his second SONA is approaching, but it is still not clear if we, the workers in public transportation, are included in the things that his government wants to develop. Or maybe he just wants to enrich the pockets of his family and close cronies?" said Floranda.