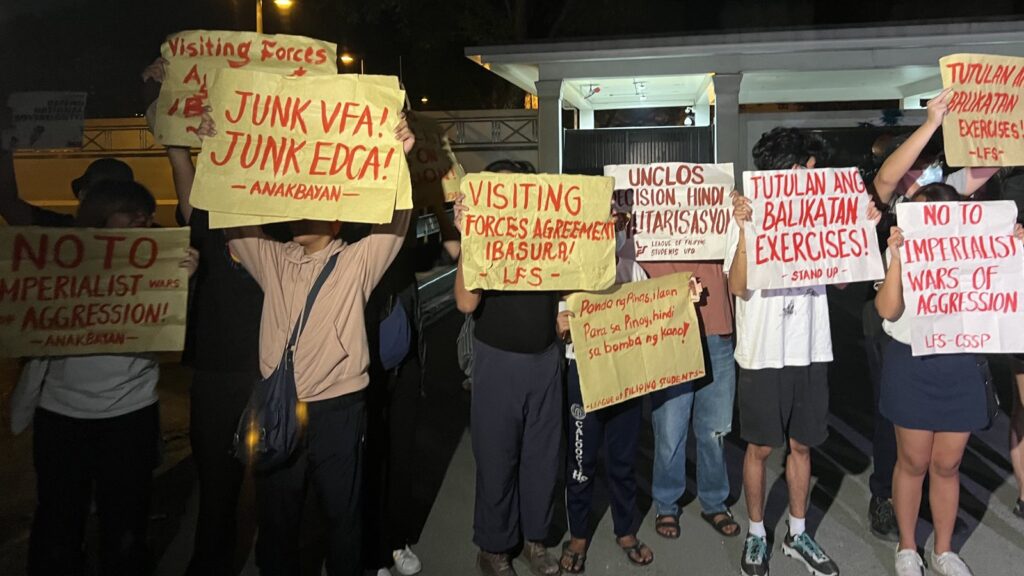 This morning, police violently and illegally arrested two of the youth activists, Gabriel Magtibay and Joanne Pagkaliwangan, at the US embassy as they voiced their opposition to the start of the largest Balikatan Exercises between the US and the Philippines.
PISTON stands in solidarity in opposing the Balikatan and the Enhanced Defense Cooperation Agreement (EDCA) and in calling to end the unjust agreements entered by the Philippine government with the US.
Under the amplified Balikatan and EDCA, the US is using the Philippines as a pawn in its rivalry with China. The deployment of 17,600 US troops to the country for military exercises will only escalate tensions between the US and China.
Moreover, the Philippines gains nothing substantial from EDCA. Contrary to the government's claims that it would help boost the economy, the increased presence of US troops in the country would actually weaken our economy. By strengthening its domination over the country, the US would intensify its looting of our natural resources and exploitation of the cheap labor of poor Filipino workers.
PISTON calls on all drivers, operators, and workers across the country to join in opposing the EDCA and Balikatan. We demand the withdrawal of US troops from the country and we vow to fight against all forms of exploitation by all imperialist countries, whether it be the US or China.
We also call for the immediate release of the two youth activists who were violently and illegally arrested at the US embassy. Protesting against imperialist wars and domination is a just cause, as our country's sovereignty is at stake.
Scrap EDCA! End the unequal relationship between the US and the Philippines! Fight against the exploitation of imperialist US and China!